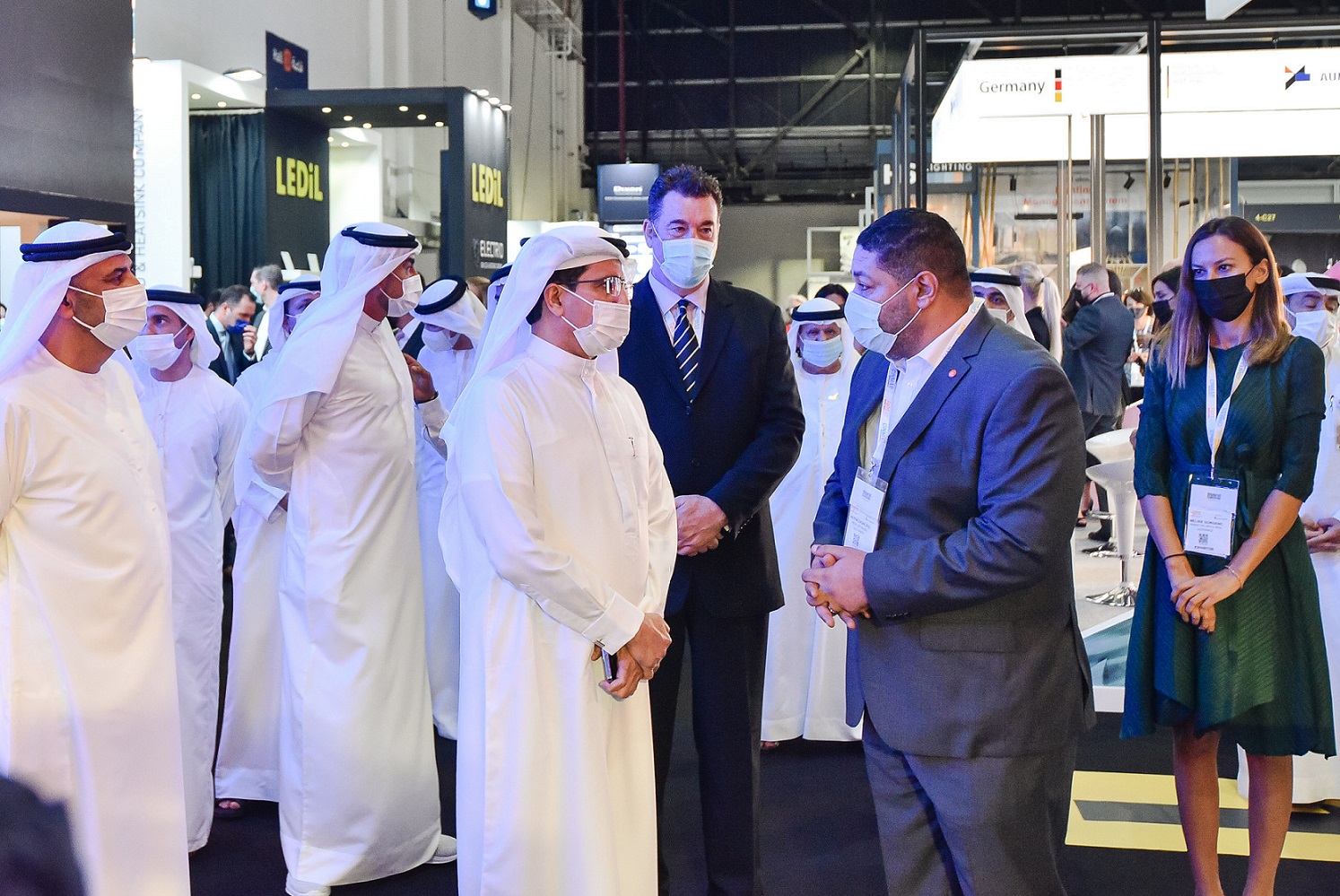 Dubai, UAE:  The 15th edition of Light Middle East, the region's premier exhibition, conference, and awards programme for lighting, design and technology, opened today in Dubai (28 September 2021) featuring 100 exhibitors and brands from 23 countries.
Organised by Messe Frankfurt Middle East, Light Middle East this week sees the largest ever German Pavilion in 15 years, alongside other exhibiting countries such as Belarus, Finland, France, Italy, Netherlands, Poland, Russia, and Spain, the USA, and of course, the UAE.
Local exhibitors such as Abensal, Cinmar, Creation Gulf, Elettrico Lighting, Ledvance, Lumentek, and Zeta Lumen, are rubbing shoulders with top international brands including ACB Iluminacion, Centrsvet, Korner, Ledvance, Perdix, Luz Negra, and Intiled, with all eager to re-establish business links in a Middle East lighting fixtures market that is estimated to be worth US$5.1 billion in 2022.
That figure, according to global analysts 6Wresearch, will grow to around US$6.5 billion in 2027, as renewed investment in infrastructure projects in the residential and commercial sector along with government measures to promote the installation of energy efficient lights injects fresh impetus into the market.
Dishan Isaac, Senior Show Manager for Light Middle East, said: "Large scale construction activity and considerable investment by regional governments into buildings, industrial and commercial infrastructure is expected to sustain long term demand for the latest in lighting technology and innovations.
"Research has shown that the region will continue to be a major growth market for LED and smart lighting systems in particular, due to the existence of increasingly environmentally-aware governments and local populations.
"Infrastructure developments coupled with comprehensive smart city initiatives are key indicators of the market potential, while the drop in LED costs and increased demand for energy efficient lighting have kept the market in a decidedly upbeat mood," added Isaac.
Exhibitors are using Light Middle East, which runs until 30th September at the Dubai World Trade Centre, to showcase their latest technologies and solutions – for most this is the first opportunity they've had to meet and connect with the industry physically, and in-person at a trade fair since the outbreak of Covid-19 in March 2020. 
Halliday Lighting from the UK is among those companies launching new products and partnerships, including the announcement of an exclusive partnership with SITECO-Germany, a leading global supplier of technical lighting.
Kirit Panchal, Sales Director for the MEA (Middle East and Africa), and APAC (Asia Pacific) for Halliday Lighting, explained: "The recent opening of our new regional office in Dubai supports our ambition of expanding our reach while remaining close to markets and customers across the MEA.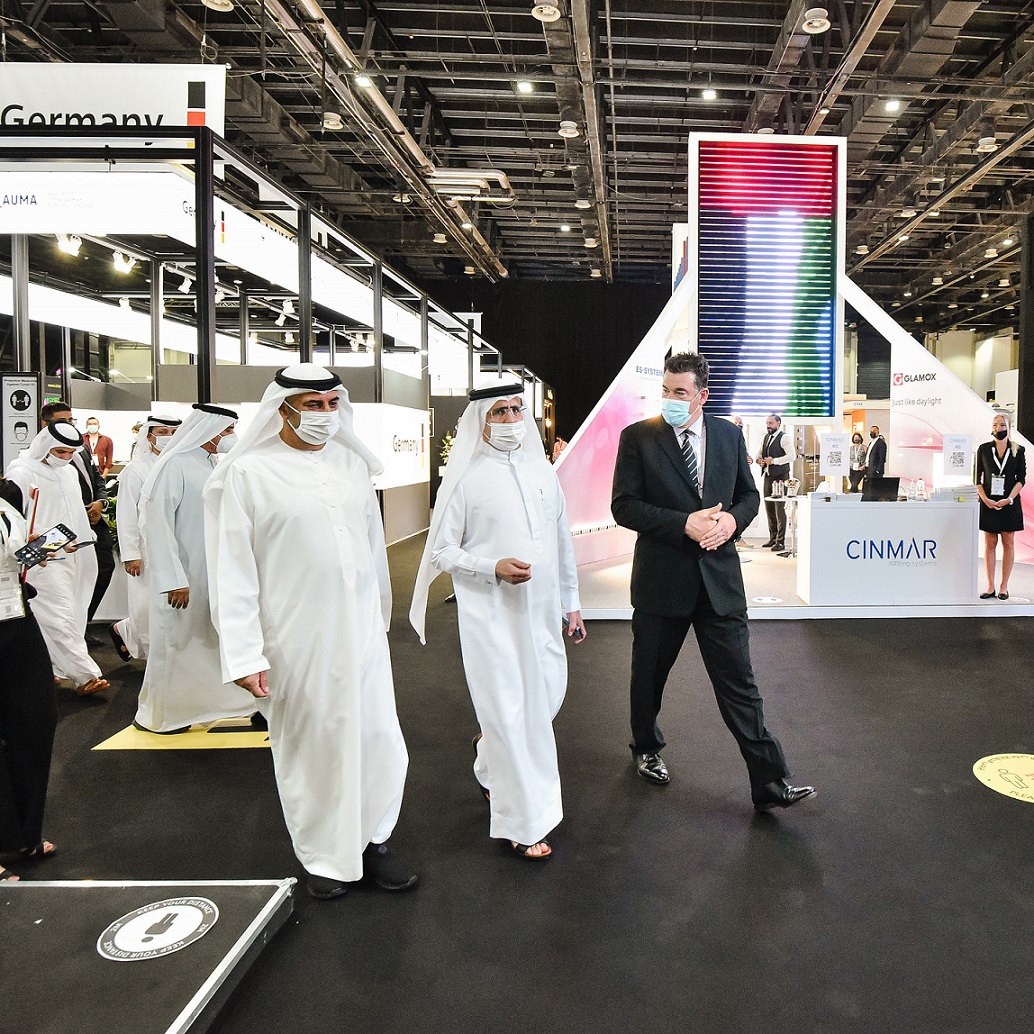 "At Light Middle East, we announce our exclusive partnership with SITECO-Germany and are showcasing some of the latest exterior lighting products for sports, area and urban lighting applications."
Panchal added the company is also launching for the first time in the Middle East Intelligent Play, the sister company to Halliday Lighting: "Intelligent Play provides the only sports pitch management system in the world which uses artificial intelligence and machine learning to manage and maintain pitches in smart way," said Panchal.
"With hundreds of happy customers already in the UK and across the globe, we're very positive about how this technology will be received and adopted in the Middle East.
"However, more than just showcasing our product range, we are very much keen and excited to listen and learn from customers in the region about what their preferences and interests are when it comes to lighting for sports, ports, airport and industries. Our mission is to provide carefree service from initial design through to installation and on-going maintenance and we look forward to starting this journey with many new clients across the Middle East."
Sustainability, IoT, smart and human-centric lighting is high on the agenda at Light Middle East 2021, with exhibitors keen to show how their products are better for the environment and human health.
Lumentek, a privately owned company with a manufacturing plant in the UAE, is among those eager to show how their solar-powered lights are a game changer in innovative technology.  Reza Jadidzaded, CEO of Lumentek, said the company's development and engineering complies to the highest EU standards, with innovative patented technology for off-grid and hybrid AC/DC solar lighting systems.
"We've already solved limitations of solar lighting systems for different applications, and we're the only company that offers solar street lighting for highways and freeways as well as solar flood light masts for stadiums and sport complexes with 3-10 days back up in cloudy, rainy or sandy conditions," said Jadidzaded.
"We've also very good solutions for converting old traditional city lighting to solar led lights, while all our products are tailor made based on geographical locations."
Meanwhile, 3Brothers, an Egyptian-headquartered LED manufacturer with more than 30 years' in the MEA, is presenting its 2022 line-up of international designer's product lines, germicidal technology and Sunlike – its own Human Centric Lighting offering.  George Michael, Managing Director of 3Brothers, said:  "Sunlike is a natural spectrum LED technological feature that enables consumers to experience the light that closely matches natural sunlight and can mimic spectral changes of sunlight.
"We're thrilled to be back at Light Middle East, as our experience in 2019 was excellent, we miss face-to-face engagement and last year passed by with no major exhibitions which makes us more excited to be here this week.
"The lighting industry is evolving every day and we are having huge leaps each and every year.  By 2022, who knows what new advancement there might be out there, but we always love to see what Light Middle East has to offer to the lighting community as we consider it to set the lighting trends in the region."
Light Middle East 2021 returns with its THINKLIGHT conference featuring more than 30 speakers across eight verticals, certified workshops, and the Light Middle East Lighting Design Recognition Awards, where a shortlist of 45 finalists contest eight categories at the region's foremost awards programme for lighting design and technology.
The winners will be celebrated among hundreds of industry professionals and colleagues during a casual setting at the conclusion of the Light Middle East exhibition on 30th September at the newly opened Lock, Stock & Barrel Business Bay.
THINKLIGHT's two-day conference programme will meanwhile cover the special focus verticals of Sustainability, Energy Efficiency & Net Zero Buildings; Transport & Infrastructure; Healthcare Lighting; IoT & Intelligent Lighting; Commercial (Retail, Offices, Shopping Malls); REAL talk, REAL people, "RAW Hospitality"; Exterior, Public Realm, Landscape; and Dark Skies: Care for light & value darkness.
More information is available at: www.lightme.net